Communication with management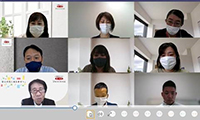 The Dai-ichi Life Group provides a forum for dialogue with various executives as a place for executives to listen seriously to the voices of employees. We hold "town hall meetings" where officers and employees talk, "talk with officers" where a small number of people talk about their areas of responsibility, and send video messages by officers on the intranet.
These are places where the background and ideas of various management issues are shared with employees, and the management receives questions and opinions from employees head-on. Through such direct dialogue, we strive to revitalize internal communication and create a vibrant organization with a sense of unity.
Whistleblowing System (Internal and External Consultation Service)
To enhance corporate governance, the Dai-ichi Life Group has established a consultation service within each company and with external lawyers in accordance with the Whistleblower Protection Act to act as a channel through which employees can directly report and consult on important compliance matters.
Specifically, the consultation service within each company receives reports concerning violations of laws and regulations and internal rules and outside lawyers of the external consultation service handle and resolve matters reported by employees of each company under a system independent from management.
Going forward, we will work to enhance governance and the trust of customers by listening sincerely to various feedback.
Consultation Service Related to Human Resources
At the Dai-ichi Life Group, we have a support system in place to help employees resolve any concerns or worries they may have about their work and to enable each and every one of them to play an active and vibrant role. For example, we have established a career support desk to assist employees in their career development, as well as a consultation desk to provide consultation on work-life balance support, LGBTQ consultation, and vocational life consultation for people with disabilities.