The Dai-ichi Life Group has set a "lifelong partner" as its group mission, and aims to provide high-quality products and services that pursue customer satisfaction while staying close to customers. Life insurance originally aims to build a CX design strategy that aims to deliver excitement that exceeds expectations to all people, not only to improve customer satisfaction, but also to ensure that customers receive insurance claims and benefits. We will pursue customer-first efforts to fulfill our role.
A Customer First Business Operation Policy
In accordance with the Customer First business operation policy established by the Dai-ichi Life Group, we disclose the status of initiatives at each Group company
CX Design Strategy
The spread of COVID-19 has highlighted the importance of having a safeguard against an uncertain future. In this sense, we believe that the expected role for life insurance will become increasingly large. And value differentiation based only on high-quality products and services is becoming difficult amid such social trends as increasingly diversifying customer values and behavior, rise of the digital-native generation, and growing influence of information communicated over SNS (Social Networking Services).
In the coming era, we believe it will be necessary to focus the value of a series of customer experiences gained through products and services, including an emotional satisfaction, in addition to the value that those products and services provide. Alongside constructing a modern-day business model based on digitalization, Dai-ichi Life Group will deliver the very best experiential values and CX by forming an even deeper
understanding of each customer and a meticulous grasp of increasingly diverse values and customer needs.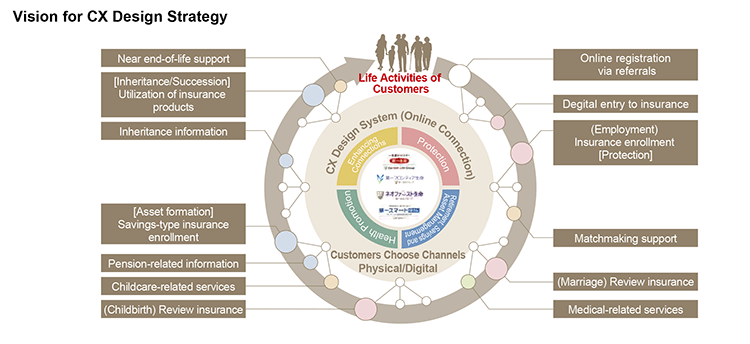 CX Design Strategy: Overview
In our domestic life insurance business, we will proceed to deliver four types of experiential values, namely protection, asset formation and succession, health promotion and enhancing connections, to address increasingly prominent social issues. By having our customers routinely experience this experiential values and emotions that exceed their expectations,
we will increase fans of Dai-ichi Life Group that would lead to our sustainable growth. That is the state that we seek to realize under our CX Design Strategy.Our "CX Design System," which we are currently building with the aim to launch in fiscal 2022, is what will form the foundation of that strategy.
This system will offer informative content related to four experiential values and an interface enabling communication with our customers. After launching the system, we will continue to successively enhance its functionality, expanding the value with non-insurance related content from our business partners in addition to content on insurance products and services from our domestic Group companies. Additionally, through diverse customer contact points over physical and digital platforms, we will deepen our understanding of each customer while utilizing technology to provide an optimal, high-quality CX as we move forward.
Through our CX Design System, while leveraging the strengths of our "offline" face-to-face channels, we will proceed to unite our customer contact points by fusing those channels with their "online" counterparts, and realize a form of "OMO" (Online Merges with Offline) that enables our customers to use what they want, when they want it in a natural manner.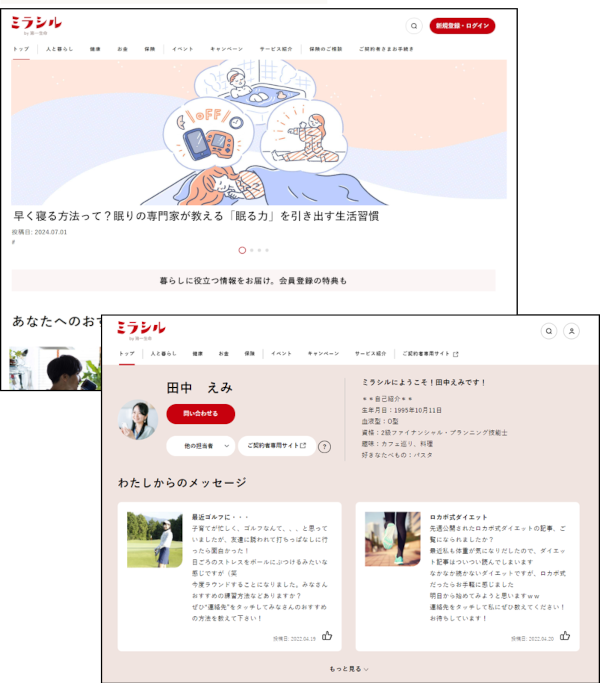 Pursuing CX through DX progressing overseas
Our various overseas Group companies are promoting services that utilize videoconferencing and other digital technologies in order to improve customer service and accommodate non-face-to-face consulting needs. Protective and TAL are pursuing the improvement of customer service through means such as insurance claims settlement via online. At each Group company in emerging countries, amid restrictions on face-to-face sales activities due to the spread of COVID-19, we are working towards ensuring and improving convenience levels through initiatives such as promoting the digitalization of platforms aimed at customers and individual agencies and the adoption of online training for agency channels.
TOPIC
DLI ASIA PACIFIC PTE. LTD.
Asia Pacific Regional HQ
Digital Transformation &
IT Group Vishal Shah(Group Head)
We are pushing forward with the development of a digital platform that can be expanded to each Group company with a view to further improving customers' quality of life.
DLI Asia Pacific provides support to Group companies in the region to enable them to go beyond sales of life insurance to accelerate their initiatives in the health and wellness services and contribute to the further improvement of customers' quality of life. We are pushing forward with the development of a shared digital platform while referring to Dai-ichi Life's "Kenko-Daiichi" (Health First), and intend to equip that base platform with content tailored to customer needs in each country. While sharing successful practices, we are working towards offering a service that enables our customers to experience optimal value.
DX initiatives at Protective Life
Support system for improving the digital experience of customers and the agencies that carry our products (Velocity)
"Velocity" is a suite of tools designed to help agencies and customers improve their digital experiences with Protective products. By eliminating paper processing and providing a digital completion mechanism, the timeline is significantly shortened compared to existing procedures.
DX initiatives at TAL
"Claims Assist" insurance claims settlement app
This service, administered online, enables customers to make claims application and check on the progress of those procedures at any given time, thereby contributing to improved service by simplifying customers' claim procedures. The service also leads to the enhanced efficiency of administrative processes in claims payment departments partially by reducing inbound calls.
"TAL Risk Academy" online training for independent advisors
TAL extensively provides content that helps improve skills and knowledge pertaining to insurance sales activities over an online platform. More than 65,000 courses are available and are taken by over 10,000 independent advisors. Through enhancing the expertise of those advisors, TAL contributes to the provision of appropriate financial advice to customers and to the improvement of their sales efficiency
Customer Feedback
We have introduced a system that collects a wide range of customer feedback and reflects it in management and operations. At Dai-ichi Life, we analyze the voices of our customers at the "VOC meeting", sort out issues, formulate and implement specific improvement measures, and consider them at the "Customer First Expert Committee".
We report these efforts to the "Management Committee" and others. In addition, when considering improvement measures, we strive to meet the needs of our customers by receiving opinions from the consumer's point of view through the "Quality Advisory Board" and other means. Please see each company's homepage for detailed efforts.
Customer Satisfaction Survey
We conduct a customer satisfaction survey every year to confirm what kind of evaluation we receive from our customers and society, and we are working to further improve quality and service. At Dai-ichi Life, we also conduct surveys to feed back "customer feedback" to Total Life Plan Designers in a timely and individual manner.
Since 2021, we have adopted NPS (*) as a measure of customer satisfaction, and have set this value as a KPI.
* It is said that not only the functional value of products and services but also emotional satisfaction can be captured, which is an effective index for measuring customer loyalty.
Initiatives Related to Payment of Insurance Claims and Benefits
The Dai-ichi Life Group makes various efforts to contact customers at each stage of the claims process–when receiving a claim, approving payment, and after payment–in order to fully provide information on insurance claims that can be paid and other potential payable benefits. We also continually strive to strengthen our payment management systems based on the results of customer surveys and the opinions of outside experts.