Selection of Material Issues
When formulating CONNECT 2020 Medium-term Management Plan, we select issues stated below as material for the Dai-ichi Life Group in the context of stakeholder expectations and relevance with our Group's business activities based on awareness of our environment that reflects diverse lifestyles and the arrival of the so called 100-year Life Society. These issues have been selected from 50 social issues we derived and analyzed from the Sustainable Development Goals (SDGs).
As such, we believe that the value creation by contributing to the improvement of quality of life in-line with our Group mission By your side, for life, will also help to achieve SDGs.
Process for Identifying Material Issues
Step 1
Identifying and organizing social issues

In order to study the priority and importance of the social issues to be tackled more specifically, we grouped the 17 goals and 169 targets of the SDGs according to their purposes, and came up with the 50 social issues as shown in (Reference (1))
Reference (1) 50 Social Issue Themes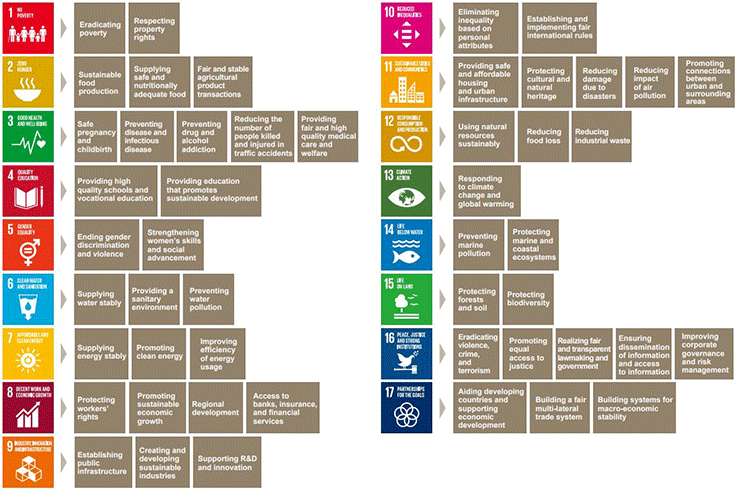 Toward Realization of the SDGs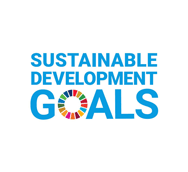 The Dai-ichi Life Group will continue fulfilling our mission, "By your side, for life," going forward, by providing products and services that help to improve peoples' quality of life and thereby contributing to the realization of the SDGs.
Specifically, in addition to economic protection, which is the traditional role of insurance, we will increase the unique value provided by the Group that goes beyond the conventional insurance business model, such as promoting health and preventing illnesses from becoming serious, and contribute to improving QOL at the same time as solving social issues, such as extending healthy lifespan, thereby contributing to the realization of the SDGs.
In addition, by proactively engaging in ESG investment as a responsible institutional investor, Dai-ichi Life will solve social issues around the world and in Japan, contributing to the realization of the SDGs.
Step 2
Evaluating Priority Level
Evaluating Importance Level

We ranked the priority level of the 50 social issues based on the expectations of stakeholders, including international organizations, bodies that formulate guidelines*1, NGOs, rating agencies that provide ESG information to investors*2, and industry groups.

*1

ISO, GRI, SASB, etc.

*2

MSCI ESG Indexes, FTSE4Good Index Series, etc.

We ranked the importance level based on the social issues that insurance companies are tackling in Japan and overseas.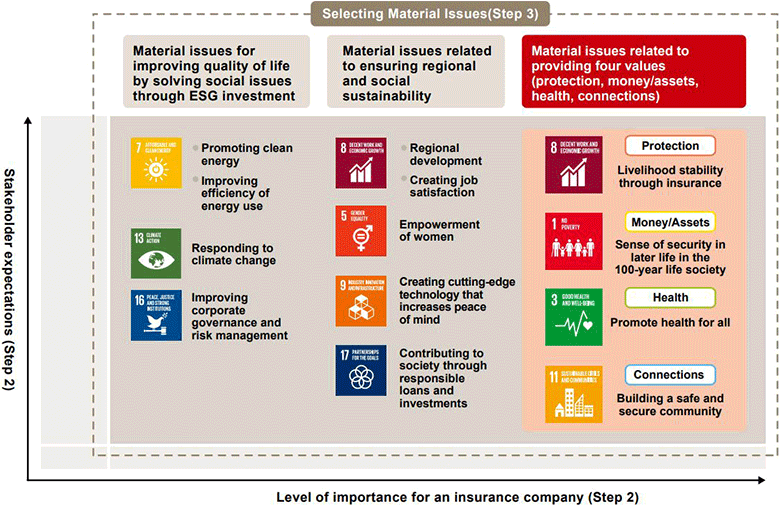 Step 3
Selecting Material Issues

We identified material issues for an insurance company and incorporated relevance to Group philosophy and contribution to improving quality of life in (Reference (2)) to organize the positioning and expression of the individual material issues.
After engaging in dialogue with outside experts, we selected 11 material issues.
Reference (2) Factors with a Big Impact on Life Satisfaction
The results of a survey on what has an impact on life satisfaction conducted by Japan's Cabinet Office listed seven factors with a big impact on satisfaction levels. Four of these factors are related to money/assets, health, and connections. The Dai-ichi Life Group believes that working to improve these factors will pave the way to improving quality of life.

Value Creation Process
Fulfilling our mission "By your side, for life," the Dai-ichi Life Group will keep on resolving new social issues through improvement of quality of life of people. By mobilizing our Group's capabilities and spreading globally the value creation based on our philosophy, we will expand our growth potential and sustainability