Our Vision
By expanding products and services that meet diversifying lifestyles and needs, we will co-create the life design of each customer and contribute to solving the social issue of protection gaps.
Background / Issues
With the rise of young people represented by Generation Z and Millennials in Japan, the low insurance coverage rate is becoming a problem. On the other hand, it is said that the guaranteed amount of the working generation is on average 10 million yen short of the required amount. Looking overseas, about 1.7 billion people, mainly in emerging countries, are in a situation where financial access is difficult, and the insurance penetration rate is also low. For domestic customers, we aim to close the protection gap by renewing the process that is the point of contact, improving life design and providing the highest level of security. In emerging countries where we do business, we will improve financial access by providing microinsurance and aim to stabilize our lives through the spread of insurance.
As anxiety over social security systems mounts against the backdrop of a population decline and the advent of an aging society, it is believed that the need to ensure protection based on self-help through such as medical and nursing care coverage to complement social security systems will increasingly grow as we move forward.
A generational shift is currently underway in which millennials and generation Z will represent over half of the productive age population in Japan by 2023. Additionally, our social environment is also shifting considerably due to a rapid increase in non-face-to-face interaction and digitalization amid the spread of COVID-19.
In this environment, it is envisioned that people's values and lifestyles will become further diversified, and that customer needs will become increasingly personalized as well.
At the same time, it has been pointed out that the insurance coverage rate among the young generation in Japan is declining, revealing a tendency of turning away from insurance. We live in uncertain times, and it precisely for that reason that we recognize our social role as a life insurance company to raise awareness of the various risks in life and eliminate the shortage in insurance coverage amounts relative to necessary coverage amounts (the protection gap).
Going forward, we will continue to enhance products and services that accommodate diverse customer needs, unite across Dai-ichi Life Group to provide security in the form of "protection" and, in doing so, co-create the life plan design of each customer.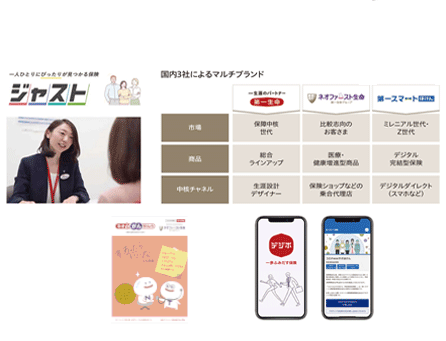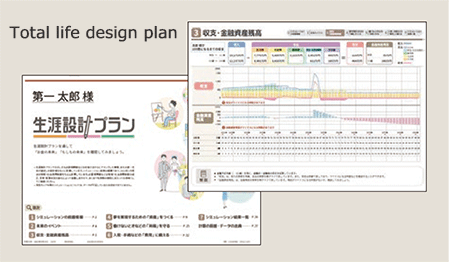 Specific Initiatives
The Roles to be Fulfilled by the Dai-ichi Life Grou
The Dai-ichi Life Group develops competitive products and services through each of our three brands in Japan (Dai-ichi Life, Dai-ichi Frontier Life, and Neo First Life) and engages in a multi-brand, multi-channel strategy that provides these products and services to customers through the optimum channel. Our overseas Group companies also provide protection that meets the needs in each country, and the Group paid out a total of 2.8 trillion yen in insurance claims and benefits in fiscal 2019. In addition, we are working to provide the necessary protection to even more customers leveraging Insurance Technology (InsTech), which is making it possible to expand insurance underwriting based on analysis of medical big data.
Initiatives of Dai-ichi Life
Through life plan design with a grasp of future social shifts and the diversification of lifestyles along with the provision of a full lineup of products, Dai-ichi Life assists each customer with improving their quality of life. To give some specific examples, we use a life plan simulation that takes social security into consideration to visualize elements such as insufficient preparations pertaining to "income" and "expenses," provide coverage to prepare against risk in life through consultations with our Total Life Plan Designers and, in doing so, become a closer part of the lives of each customer.
Going forward, we will continue to propose experiential values that leads to the health and peace of mind of our customers through enhancing products and services that accommodate those customers' increasingly diversified and segmented needs and providing additional services that go beyond the limits of insurance.
Insurance Products that Address Diversification of Protection Needs
In March 2018, responding to diversification in customer protection needs, Dai-ichi Life launched "Just," a product that enables customers to freely select and combine the protection that is just right for themselves. Supported by a wide range of generations, cumulative sales exceeded 1.95 million policies in June 2020. We also provide products such as dementia insurance, launched in December 2018, and income support insurance, launched in September 2019, that respond to diverse customer needs.
Group Insurance: Support for the Three Major Diseases and Accompanying Services
In addition to covering treatment costs when employees suffer any of the three major diseases, Dai-ichi Life's Group Insurance: Support for the Three Major Diseases, covers the expenses for creating a workplace environment that will enable employees to keep working with peace of mind while continuing treatment, which contributes to preventing employees from leaving and solving labor shortages at corporations. We also provide services to support corporate health and productivity management, such as the Kenkokeiei®*3 discount and the "DL Kenkokeiei Backup Service," which encourages behavior changes aimed at improving employee health.
*3

Kenkokeiei® is the registered trademark of Nonprofit Organization Kenkokeiei. Kenkokeiei refers to corporate health achievement.
Initiatives of Neo First Life
Neo First Life perceives "Nice to have in life" that customers themselves have yet to pick up on with a view to their'"wellness" (physical and mental satisfaction*1) and endeavors to provide new value through new ideas.
Through walk-in shops, agencies and other distribution channels, Neo First Life supplies insurance products and services that contribute to the promotion of customer health such as insurance with premium discounts based on health age (Kenko Nenrei ®*2). In April 2021, it commenced sales of "Pitatto Lady," a product that safeguards against the physical and mental risks and anxiety specific to women.
Going forward, Neo First Life will continue to realize "wellness" through developing products and services that contribute to the promotion of health from the angle of "Become healthy through insurance."
*1

Neo First Life defines the stage of feeling physically and mentally satisfied with a view to a rich life as "wellness."

*2

Kenko Nenrei © (Health Age) is a registered trademark of JMDC Inc.
Launching of new product brand "Digi-ho," an insurance with fully digital procedures
In April 2021, the Dai-ichi Life Insurance Company launched "Digi-ho" a new product brand whose concept is assisting younger generations who will shape the future, namely millennials and generation Z, so that they can feel secure in taking a step forward. Simultaneously, the company also commenced operation of "Dai-ichi Smart Small-amount and Short-term Insurance" as a means of pursuing "a new form of insurance."
The selling point of Digi-ho is that all associated procedures, from application to the receipt of benefits, are completed on customer's smartphone or other devices, making this product a completely digital insurance that provides simple coverage with reasonable starting amounts. In addition to continuing improving convenience through means such as paying benefits in the form of e-money, the Dai-ichi Life Insurance Company will provide Digi-ho to communities operated by its various business partner companies, deliver order-made products and insurance experience that customers can join with ease, thus taking on the challenge of new initiatives that are not confined to preexisting forms of insurance.
Promotion of global strategy
Expanding business to full-scale in Mekong region which has medium- to long-term growth prospects
By expanding at an early stage into emerging Mekong countries, where economic growth and expansion of the life insurance market is expected in the medium- to long-term, the Dai-ichi Life Group aims to obtain first-mover advantages, as well as implement efficient business operations, leveraging the knowledge and resources of its regional headquarter and Dai-ichi Life Vietnam to achieve further growth. Following Cambodia, we acquired the only provisional business license for a wholly-owned subsidiary of a Japanese life insurance group in Myanmar in April 2019, after which we established a preparation company in May. In November, we acquired a life insurance business license, and we started operations in Myanmar in September 2020. We will provide long-term peace of mind through life insurance in emerging countries of Mekong, where sustainable economic growth is expected against the backdrop of a rich population, and contribute to the prosperous lives of people and the development of local communities.
Specific Initiatives
Dai-ichi Life Vietnam (Vietnam)
Sustainable growth to become major life insurer in Vietnamese market
Dai-ichi Life Vietnam has pursued the reinforcement of its individual insurance agent channels through extensively training and expanding the sales network of the individual insurance agents who form the company's core. In addition to expanding into alternative channels, while strengthening cooperation with partners, and enhancement of its product lineup. Since commencing its business in 2007, the company has steadily expanded its market share, and is now one of the top five major life insurers. Going forward, we will continue to improve customer's experiential values and support our sales structure largely through the promotion of various digital platforms and aiming for sustainable growth by expanding sales and improving operational quality.
Dai-ichi Life Cambodia (Cambodia)
Realizing steady growth through the reinforcement of a sales structure centered on individual insurance agents
Dai-ichi Life Cambodia was established in March 2018 as the first subsidiary of a Japanese life insurance company in Cambodia, and commenced operations in April 2019 centered on the capital Phnom Penh.
Dai-ichi Life Cambodia steadily grew with success largely through establishing a sales structure for its individual agent channels and concluding new cross-sale agreements with banks. Going forward, the company will continue expansion of sales bases in its individual agent channels, the augmentation of its leader personnel, the strengthening of sales support directed at existing partners in its bancassurance channels, cooperation with new partners, the diversification of its products and various forms of digitalization as it aims to grow further and expand its market share.
Dai-ichi Life Myanmar (Myanmar)
Commenced operation as the only wholly-owned subsidiary of a Japanese life insurance company
In November 2019, we became the only Japanese life insurance company in Myanmar to acquire a permit to establish and operate a life insurance business as a wholly-owned subsidiary, and commenced operation in September 2020. In FY2020, we progressed with establishing a business foundation aimed at future growth through establishing a sales and administrative structure as well as internal controls in individual insurance agent channels. In addition to continuing to be sufficiently mindful of domestic circumstances and administer operations with the employee safety as our first priority, we will promote cooperation with each of our Group companies in the Southeast Asian region, provide peace of mind through life insurance and, in doing so, contribute to people's well-being and development of communities.
Protective (U.S.A)
Steady profit contribution driven by retail and acquisitions
Protective achieved sustainable growth through its distinctive business model which involves generating capital through its retail business (life insurance and individual annuities) operated nationwide and utilizing the generated capital in its acquisition business.
For its retail business, Protective expanded channels and promoted the expansion of sales of products with low interest rate sensitivity to make stable contributions to Group profit. Additionally, the company is tackling the improvement of CX with a particular focus on improving the quality of various processes and shortening processing time through aggressively introducing digital tools.
For its acquisition business, Protective has been steadily and successfully expanding its operational scale and earnings largely through the five acquisitions that it made since becoming part of the Dai-ichi Life Group, including the acquisition of Revolos that it disclosed in 2020. The company will continue reinforcing its acquisition business and uncovering new acquisitions that also contribute to the improvement of capital efficiency.
Going forward, Protective will continue aiming for further growth in North America and improved capital efficiency through a positive cycle brought forth by the dual axes of its retail and acquisition businesses.
TAL (Australia)
Top position for eight years in protection-type market
TAL has promoted a strategy of specialization in protection-type products and since 2013 has maintained the top position in terms of annualized net premiums from in-force policies in Australia's protection-type insurance market. Such growth is underpinned by TAL's partners in each of its businesses (retail: independent insurance agents; direct: non-life insurance financial institutions and other industries; group insurance: superannuation schemes). TAL is working to preserve and reinforce the sound relationships that it currently has with its partners by improving the experiential value offered to customers and partners through supporting the training of independent insurance agents and making strategic investments in digital platforms. In addition, TAL has also grown through acquisitions, with the acquisition of Asteron Life & Superannuation Limited (formerly a member of the Suncorp Group) in February 2019 yielding steady progress in the creation of synergy. Going forward, TAL will continue aiming for stable profit generation and improved capital efficiency through adequate resource allocation and the diversification of its products in addition to the sound relationships with its partners.
OCEAN LIFE (Thailand)
Positive growth through individual insurance agent channels development
OCEAN LIFE aims for sustainable growth through reinforcing the foundation for future growth that involves continuous recruitment and training of new personnel for its individual agency channels, expanding capabilities of leaders, and workplace development.
Going forward, the OCEAN LIFE will continue striving to achieve stable profits and growth through accelerating medical riders that target market needs and further improving customer services through the enhancement of online services and other efforts.
Microinsurance
The Dai-ichi Life Group is working through its overseas group companies based in countries such as Vietnam, India and Indonesia to provide microinsurance that helps the people in these countries gain access to small loans, with the aim of making insurance more widespread, including among low income groups.
Dai-ichi Life Vietnam provides microinsurance products via Vietnam Post which has extensive network in Vietnam in order to provide life insurance services to the wider population.
Since 2015, Star Union Dai-ichi Life has been offering a term life product in small sums, Pradhan Mantri Jeevan Jyoti Bima Yojana (PMJJBY), which is common across the country, for the account holders of both savings banks, Bank of India and Union Bank of India. Most of the branches of these allied banks; Bank of India and Union Bank of India, offer the product to support for promoting the dissemination of a life insurance across India.
Panin Dai-ichi Life synergized with Panin Bank to market a microinsurance product named SIGAP. The product launch was part of our commitment to supporting the microfinance services program, which consists of financial products with a simple process and fast and easy access.