By realizing a "World of Opportunities" in which our employees all over the world can energetically demonstrate their authenticity and successfully contribute, we will enhance our group corporate value.
Human Capital Management Strategies
In order to achieve our vision adopted in its new MMP, it is indispensable to fully reveal and leverage our most valuable assets the "human capital" who will realize the vision. Therefore, human resource departments representing our various group companies around the world have engaged in a continuous dialogue in the Group's four priority areas: career development, diversity and inclusion, health and well-being and social responsibility, and pursue the realization of a "World of Opportunities."
By earnestly pursuing these initiatives, we aim to improve productivity of our employees that would lead to enhanced human capital value along with the promotion of diverse talents to higher positions.
The result of our employee satisfaction survey for fiscal 2020 was 3.75, considerably surpassing the result for the previous fiscal year. However, while our various initiatives were positively accepted by our employees, the survey administered right after the incidents of fraudulent cash mishandlings by former Dai-ichi Life employees and disclosed in December 2020 revealed considerable criticism regarding our corporate culture and business structure.
Taking this criticism very seriously, management held an emergency offsite session with all executive officers, and has held 56 town hall meetings with all employees and officers since May 2021. Going forward, we will steadily pursue behavior change based on employee feedbacks, and by monitoring the results of employee engagement index we will aim continuous improvements. Additionally, by promoting group Employee Value Proposition (EVP) on a global level, we will aim to improve group employee engagement as we move forward.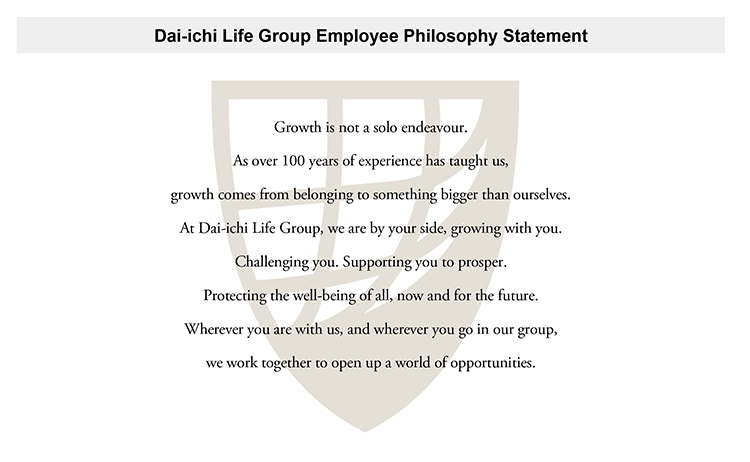 Dai-ichi Group Human Capital Management Statement
We, the Dai-ichi Life Group, have defined our mission consistent with the spirit of "By Your Side, For Life". Based on this mission we see our primary purpose as contributing to the peace of mind and prosperity of our customers and contributing to the well-being of communities we serve.
Our strength is our people. They contribute and make a difference in the lives of our customers and in the success of our businesses. It is only through the efforts of our people across the Dai-ichi Life Group that we deliver our mission.
We recognize and support the uniqueness of each Dai-ichi Life group company, at the same time we commit to our Group Human Capital Management focus areas by sharing best practices, knowledge and designing a joint way forward.
We plan to achieve this through the promotion of four focus areas - Career Development, Diversity & Inclusion, Health & Wellbeing, and Social Responsibility.
Therefore, providing our people with opportunities to learn, grow and develop their careers in an inclusive and supportive environment that embraces diversity and encourages well-being.
We, the Dai-ichi Life Group, offer a "World of Opportunities".
Enhancement of Corporate Value through Human Capital Strategy
Nowadays, it is indispensable to invest in human capital that is a cornerstone for company to maintain its competitive advantage over the long-term and continuously enhance its corporate value. We pursue improvement of wellbeing and engagement of our employees through various human capital strategies, that foster corporate culture that promotes cooperation and co-creation and improvement of human capital value by enhancing capabilities and retention. Through these efforts, the Group seeks to raise the confidence of its customers, society and other stakeholders and, in the process, enhance its corporate value.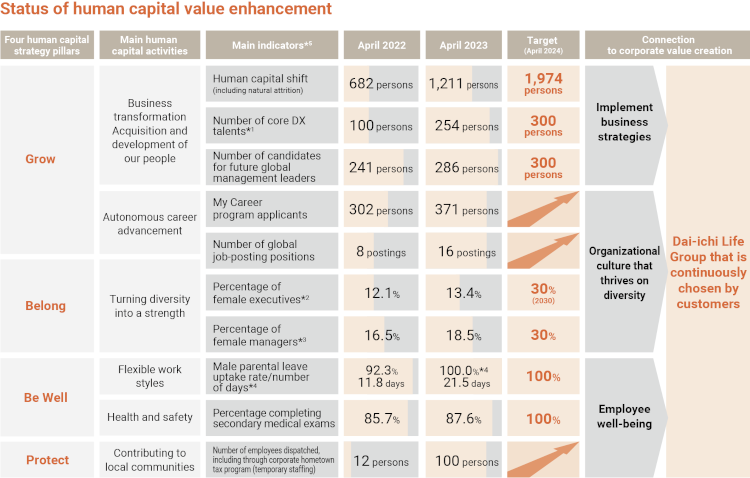 Career Development
Dai-ichi Life revised its HR policy and program to leverage and realize fullest potential of each employee. Based on our newly-formulated "Human Capital Development Road Map," we seek to maximize employee potential largely through 1-for-1 and career design training systems. Also, in addition to expanding learning opportunities at Dai-ichi-life Net College, we have started investment aimed at providing training opportunities through linkage with our CX/DX and other business strategies and improving the leadership capabilities of our managers.
In addition, alongside with enhancement of existing business efficiency through transformation of business model, we moved forward with implementation of a new work style that is not tied to time or location while focusing on the expanding career opportunities through utilizing IT and allowing side jobs within and outside the company.
Please see the link for the initiative of Dai-ichi Life, the core company of the group.
Dai-ichi Life

TOPIC~External Side Job~
Knowledge and know-how gained through the side job can also be leveraged in main job
Yohei Saito
Assistant Manager
Total Life Planning and
Sales Training Dept.
The Dai-ichi Life
Insurance Co., Ltd.
Before joining Dai-ichi Life as a midcareer hire in November 2017, I had spent a long time working as a freelancer and self-employed. After notice allowing engagement in a side job was issued, I was able to begin a side job in about a month's time. While my side job mainly consists of consulting for digital marketing, it also includes creative production and application development that accompanies that consulting. My experience of becoming a service provider in my side job, lead my deeper understanding of consulting firms and various vendors and I feel it also lead to a smoother project management in my main job. Additionally, I managed to gain a direct sense of what I can provide to the market when I am not representing Dai-ichi Life and how my efforts are received when I do so. The feeling of satisfaction involved is different from the one that I gain through my main job.
Diversity and Inclusion
In these times when stakeholder needs are becoming increasingly diverse and change is severe, we recognize that it is impossible to survive unless we leverage diversity of our employees to enhance our value. We continue to support and develop our diverse people in order to help them lead our business.
Please see the link for the details of diversity and inclusion initiatives.
Diversity and Inclusion
Health and Well-Being
For improving well-being of our customers, it is essential for us to elevate the well-being of our employees, who deliver that value to customers. Through health care point system using our "Kenko-Daiichi" (Health First) app, health promotion seminars, individual health assistance through Web interviews by occupational health staff and other initiatives, we proactively support our employee's health promotion.
Promoting Health for Employees
Group Health Declaration, Health Promotion System
The Dai-ichi Life Group announced The Dai-ichi Life Group Health Declaration "Iki Iki Dai-ichi 110" in 2011. In 2013, we added health promotion to Dai-ichi's Social Responsibility Charter and established the Basic Policy on Health Promotion. We have established the Work Smart Special Committee under the Committee for DSR Promotion, which is under direct control of the president to promote management emphasizing health, using a PDCA cycle.
Three Basic Principles
The Group aims for a happy life and improvement of QOL (quality of life) through health promotion. Based on that goal, we promote initiatives focusing on three principles: prevention of increases in the severity of disease, prevention of disease, and mental healthcare.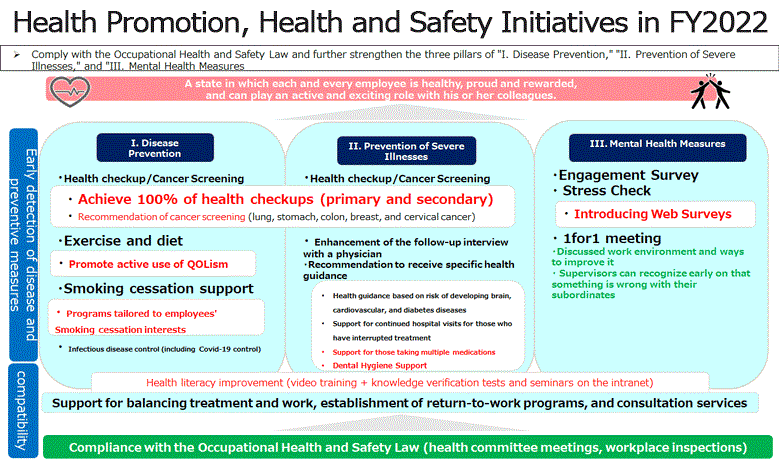 Social Responsibility
As part of its business, Dai-ichi Life promotes initiatives to resolve social issues in various regions, an example of which is the "Chiiki Iki-iki Project" (Regional Revitalization Project).
Additionally, through voluntary activities conducted by employees themselves, we encourage contributing to the resolution of social issues through a side job as well as engaging in activities to contribute to society by taking "Quality of Life Improvement Leave."*2
*2 Work leave system to improve QOL of our employees. May be used in a wide range of cases, such as for performing volunteer work, engaging in self-development or infertility treatment, or undergoing a comprehensive medical checkup.

TOPICS!
Human Resource System Revision
Human Resource System Revision
Seizing the opportunity from our transition to a publicly listed company, the Dai-ichi Life Group has used the past 10 years to rapidly grow our business fields, by accelerating global expansion and building a domestic business framework around three life insurance companies. In a quickly and dramatically changing business environment, with diversifying customer values and market characteristics, raising the competitiveness of the Group's human capital-our greatest asset-is indispensable for remaining the preferred choice by customers and society. Consequently, we undertook a full-fledged revision of our human resources system and put it into play in July 2020 as a framework for encouraging personal transformation, and supporting the performance and growth of each and every employee.
Highlights of the Revised Human Resource System
Under the new system, we established multiple work grades (in place of the previous single-grade system) to sufficiently compensate employees with exemplary knowledge and experience. In addition to the career planning we have emphasized to date which focused on attaining management positions, we have added paths for career development that will let employees hone their skills in a specialized area and be active players on a wider stage. The ideal we are targeting is a work force of managers and professionals in a specialized field who engage in mutually beneficial competition that boosts the level of human capital for both sides.
Furthermore, we created a Human Resources Development Road Map that helps outline and guide the process. To elevate the value of our human capital by socially relevant criteria, we redefined and more clearly specified our ideal vision for our human resources. Through dialogue between superiors and subordinates, we would like to inspire each and every employee to challenge themselves in a way that raises their value as human capital.
With this revision to the human resources system, we will strive for a Dai-ichi Life Group where employees have individuality and achieve robust growth.