Basic Policy
Diversity and Inclusion
Mutual inclusion of the diversity in our human resources is a driving force behind sustained growth.
■

We promote the development of a workplace environment and corporate culture of mutual respect for diversity in terms of gender, age, nationality, race, ethnicity, religion, social standing, disabilities, sexual orientation and gender identify, values, approach to work and so on, in which employees can contribute and grow together.

■

We want each employee to work with vitality and excitement, demonstrating their full abilities as professionals.

■

Moreover, we want employees to take part in the management of their own organizations and demonstrate teamwork to bring about innovation and create new value.
These concepts represent the diversity and inclusion approach embraced by the Dai-ichi Life Group.
Promoting the Achievements of Female Employees
Status of promotion
We promote our initiatives based on the 3 main pillars of "Awareness and Organizational reform", "Work life management promotion", and "Enhancement of skill development".
In particular, we aim to strengthen our pipeline of the next generation of female leaders by proving goal-oriented training by position with the support from our Departments.
With regards to the ratio of female leaders with decision-making ability, we aim to have 30% of our executives be female by 2030 and have 30% of our managers and line managers be female by 2024.
We are implementing various initiatives with this realization in mind.
Percentage of Female Managers at the Domestic Life Insurance Group*1 (as of April 1, 2022)
| | | | | |
| --- | --- | --- | --- | --- |
| | Total | Male | Female | % of female employees |
| In-house employees*2 | 3,680 | 2,631 | 1,049 | 28.5% |
| General managers and Managers*3 | 1,532 | 1,279 | 253 | 16.5% |
*1

Total figures for Dai-ichi Life Holding and domestic life insurance group companies (Dai-ichi Life, Dai-ichi Frontier Life, Neo First Life)

*2

Managers, Managers of Branch Offices, Deputy Branch Office Heads, etc.

*3

Senior General Managers, Regional Branch Office Managers, Line Managers, Deputy Branch office managers, Block Sales Managers
Initiative for In-house Employees
Promoting the Early Development of Female Leaders
Female Branch Manager Network
Newly appointed branch office executives exchange information and opinions with other members and senior branch office executives which fosters better organizational management and enables a stronger internal network among members.
Female Manager's Seminar
In order to realize an organization that can create new value, participants learn the roles of a manager and understand the ability to think from a management perspective. Members also become advisors of for participants of the Next Generation Female Leader's seminar for their development.
Next Generation Female Leader's Seminar
By incorporating the paricipants' regular workplace activities and with the support of their managers, they put what knowledge that they had aquired through the training and turn it into practice in their work. Participants get together in small teams and share their workplace practices. Through regular dialogue with their managers, partipants undestand various role models and discover their own image of what a manager shoud be.
Accommodating diverse work styles
My Career System
We have adopted the "My Career System" to enable employees to autonomously consider their own careers and forge their own career path. In addition to job positions within our Group, we have prepared positions at career rotation companies (outside our Group) where employees can contribute to a variety of fields outside the boundaries of insurance. This expands the environment where employees can challenge themselves in things that they want to do. The numbers of job positions, applicants, and successful candidates are increasing, and we are aiming for "an era where employees can choose their own careers." In the year beginning in August 2021, we began posting jobs and improving the matching between job postings and applicants.
My Career System
Number of job postings / Number of applicants / Number of successful candidates
| | | | |
| --- | --- | --- | --- |
| | Fiscal 2019 | Fiscal 2020 | Fiscal 2021 |
| Number of job postings | 131 | 175 | 222 |
| Number of applicants | 206 | 181 | 296 |
| Number of successful candidates | 71 | 73 | 93 |
Adoption of full remote work
In April 2022, we adopted a full remote work option; 17 employees are trying out this new style of work. Among those whose work is limited to a particular region and does not require a move, employees for whom it is difficult to commute to work within 90 minutes, such as in Tokyo or Osaka, are able to perform work for the headquarters in a fully remote fashion, five days a week, from anywhere in Japan. Also, for those who have chosen short workdays for reasons such as childcare, the elimination of commute time due to remote work could allow them to choose to move to full time. A flexible work style that does not depend on time or location of residence is driving a diverse range of career options.
Career rotations outside our group by leveraging Japanese hometown tax program
In April 2022, we began career rotations at local government organizations, utilizing a temporary staffing style hometown tax agency. We placed one employee each with Hannan City, Osaka Prefecture, and Tokushima Prefecture (as of July 2022). These employees are involved in activities including the Smart Wellness City initiative (in Hannan City) and regional promotion (in Tokushima Prefecture).
Internal and external side jobs
Starting in April 2021, the restriction on side jobs outside the company was lifted. This policy enables the utilization of relevant skills and specialties outside the company and is intended to help in community building. The range of possible outside work is broad, including things like teaching seminars. Currently, about 150 employees are taking advantage of this opportunity. Furthermore, internal side jobs were allowed beginning in December 2020. Each project can advertise jobs; gathering participants from various departments enables collaboration and innovation across department boundaries. Participants who have a chance to work on projects for other departments also get the opportunity to think about their own careers.
| | | | |
| --- | --- | --- | --- |
| | Fiscal 2020 | Fiscal 2021 | Fiscal 2022* |
| Internal side jobs | 15 | 10 | 39 |
| External side jobs | - | 106 | 146 |
*As of July 2022
Efforts to prevent unconscious bias
To maximize and develop an employee's individual skills and abilities, it is necessary to recognize and consciously control any perceived distortions and biases that we see daily. It is essential to overcome unconscious bias and not be steered to assumptions such as gender stereotypes. Therefore, in addition to conducting unconscious bias training for all employees, we also provide an "evaluation error checklist" that makes aware of any unconscious bias during evaluations to implement fair and impartial evaluations.
Efforts to address women's health issues
Various seminars are held each year that addresses health issues and treatment that are unique to women that may affect their career development. These seminars are held to raise awareness and to attain a deeper understanding for themselves and for those employees around them.
Seminar Topics from 2021
Breast Cancer
Uterine Conditions
Premenstrual Syndrome (PMS) • Dysmenorrhea (Period Pain) • Menopause
Pregnancy and Infertility treatment
External Recognition
Selected the "Nadeshiko" brand in 2018 and "Semi-Nadeshiko" brand in 2019*
*

The Nadeshiko Brand is a joint initiative from the Ministry of Economy, Trade, and Industry (METI) and the Tokyo Stosch Exchange (TSE) that publicizes TSE-listed enterprises that encourages women's success in the workplace.
Selected as a Nadeshiko brand for two consecutive years.
2018 Nadeshiko Brand
2019 Semi-Nadeshiko Brand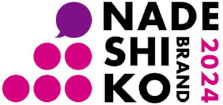 Active Participation of Employees with Disabilities
Dai-ichi Life not only actively hires people with disabilities, but also conduct follow-up interviews after they have joined the company as well as well as administering Human rights training to understand people with disabilities so that they will be able to perform their duties in a comfortable working environment as we aim to realize normalization. The employment rate of persons with disabilities is 2.44% 1,022 employees are active nationwide.
Initiatives of Dai-ichi Life Challenged
Dai-ichi Life Challenged Co. Ltd. was established in August 2006 as a subsidiary of Dai-ichi Life and was certified as a special subsidiary in November 2006. Dai-ichi Life Challenged mainly hire those with intellectual and mental disabilities and currently have over 370 employees working in 8 locations. We strive to create a culture where every individual can be entrusted towards personal growth while accepting and supporting each other.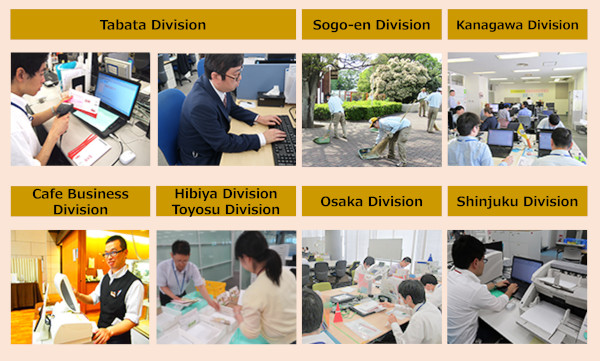 At Dai-ichi Life Challenged, there are a wide variety of jobs in various business departments. The main business is outsourced from the Dai-life Life Group and there are more than 20 different types of tasks such as printing, document shipping, administrative assistance, cleaning, and being coffee baristas. Through these jobs, each employee utilizes their own strengths that compliments in developing their skills. Going forward, we would like to challenge ourselves in learning new tasks that come our way.
External Commendations
Certified as a company for its active participation for people with disabilities
In December 2017, we were certified as a "Company with Active Participation of Persons with Disabilities" commissioned by the Ministry of Health, Labor and Welfare, in recognition of our efforts in employment management reviewing employment.
Certified as an excellent company in employing intellectually challenged individuals
In March 2016, Dai-ichi Life Challenged had obtained certification under a project commissioned by the Ministry of Health, Labour and Welfare as an outstanding company in employing intellectually challenged individuals. This certification was conducted as a project commissioned to assess the social contributions of companies making proactive efforts to promote the employment of people with disabilities, particularly those with mental disabilities, with the aim of promoting proactive initiatives for the employment of people with disabilities at companies.
Global Diversity
Group Initiative Task and Global Leaders Committee
With the goal of solving issues that surrounds the Group, the Dai-ichi Life Group has established various task forces (Group Initiative Task Force) consisting of members from each of the overseas Group Companies. These task forces cover a wide variety of topics to engage in Group-wide collaborative initiatives. With our diverse range of global talent and specialties, our Group engages in discussions to solve issues and create value. The Group has also created the Global Leaders Committee comprised of top executives from each Group company as they engage in deep discussions with the goal of further growth of the Group.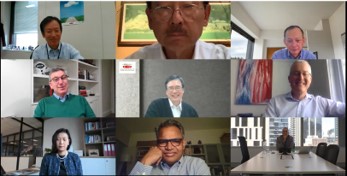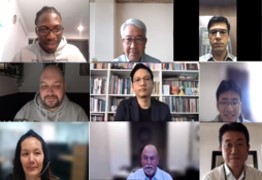 Hiring of International Students
We hire newly graduated international students from Japanese educational institutions as part of our proactive efforts to develop global human resources. These employees bring diverse cultural backgrounds and values that enrich the workplace and help us to improve our organization and the Group's international competitiveness.
Other Initiatives
Global Talent Seeds (GTS) Developing language and business skills to junior employees
Dispatch of employees overseas for study and training
Work-Life Balance
Dai-ichi Life strives to promote work-life management of our employees based on two pillars - the Improvement of work-life support systems and the promotion of flexible work styles and creating an environment in which our employees can work with enthusiasm. Further, from fiscal year 2022, for the promotion of having our male employees taking on a more active role in childcare with their partners, Dai-ichi Life has set a company goal of 100% of our employees who will become expecting fathers take paternity leave for a minimum 1 month cumulatively. In addition, we hold seminars to promote awareness and provide educational materials on taking childcare leave and provide communication tools for managers and team members.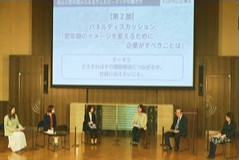 We are undertaking a variety of policies to create a culture where all employees are motivated and can work energetically.
Atsuko Ochiai Executive Officer
This fiscal year, we are strengthening our initiatives with the goal that 100% of male employees will take a total of at least one month of parental leave. We are promoting measures that exceed what is required by law in terms of parental leave. For example, in October 2022 we will adopt a program that allows up to 20 days of accumulated paid time off for male employees who take parental leave, allowing them to take an active role in child-rearing and housework when their partner gives birth, or during particularly difficult periods in child-rearing. In encouraging men to take parental leave, it is necessary to overcome unconscious biases that foster awareness of stereotypes for gender roles, such as "child-rearing and housework should be done by women." This fiscal year, we aim to conduct a "family friendly boss's seminar" for upper management to initiate reforms among management and strengthen teamwork. For both men and women, taking parental leave to participate in housework and child-rearing not only leads to personal joy, happiness, and human development but also provides viewpoints and experiences that can be leveraged at work, leading to new ideas and increased productivity. We are promoting the creation of a work environment where everyone can create their own environment and ambience that allows the balancing of work and life, and where respect of and cooperation with diverse employees leads to reforms in the corporate culture, increased employee well-being, and members supporting each other.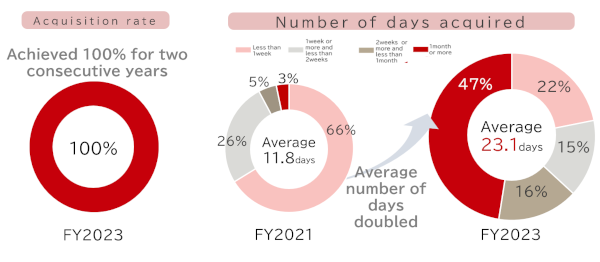 Company internal awareness poster
Note:

In Tokyo, we aim to change the mindset of society from parental leave being "taking time off work" to "taking time to raise children, the treasures of society"; to this end, we have nicknamed parental leave "rearing work." The rest of our Group endorses the intent of this nickname.
| | | | |
| --- | --- | --- | --- |
| | Fiscal 2019 | Fiscal 2020 | Fiscal 2021 |
| Acquisition rate | 79.8% | 91.3% | 92.3% |
| Average number of days taken | 9.5 | 11.5 | 11.8 |
Instituting and Promoting the Use of the Work-Life Balance Support (Family-Friendly System)

We are enhancing work-life balance support so that female workers feel secure continuing to work as they experience various life events (such as pregnancy, childbirth, and childcare) and provide care to others. In addition, we acquired Platinum "Kurumin" certification by the Tokyo Labor Bureau, under the Ministry of Health, Labour and Welfare, as recognition system established along with the revision of the Act on Advancement of Measures to Support Raising Next-Generation Children on April 1, 2015. This is awarded to "Kurumin" certified companies that have executed such measures at a higher standard than before.
We has received "Kurumin" certification five times in the past from 2007.
Usage of various systems
FY2019
FY2020
FY2021
Employees taking childcare leave
1,396
1,455
1,560
Rate of employees return after childcare leave
(Office workers)
97.2%
98.3%
96.9%
Number of employees working reduced hours for chilcare
501
495
491
Number of employees utilizing childcare service subsidies
3,827
3,584
3,287
Number of employees utilizing "Family Transfer System"
42
61
63
Number of employees taking nursing care leave
219
123
197
Average monthly overtime hours
(office workers)
4.8 hours
5.0 hours
5.2 hours
Average number of days of paid annual leaves taken
12.8 days
12.3 days
13.6 days
Average aquisition rate of annual leave
67.7%
64.0%
70.1%
Rate of male employees taking childcare leave
79.8%
91.3%
92.3%
LGBTQ-Friendly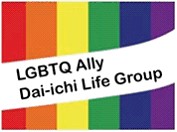 Dai-ichi Life clearly expresses its respect for basic human rights in the Dai-ichi Life Human Rights Declaration

. As a part of its efforts to ensure Diversity & Inclusion, the Company also promotes initiatives to make it a LGBTQ* friendly company.
*

LGBTQ is an acronym that stands for Lesbian, Gay, Bisexual, and Transgender and Queer or Questioning persons, including persons with gender identity disorder.
Dai-ichi Life participates with other companies as a member of the executive committee in "work with Pride" an organization that supports sexual minorities. President Inagaki has also sent a message supporting LGBTQ initiatives.
(Position is as it was at the time of signing)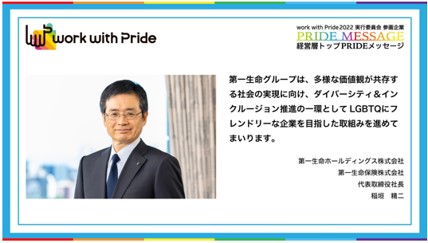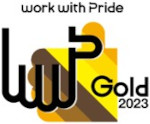 Initiatives to customers
Insurance Beneficiary
If a policyholder wishes to designate a same-sex partner as a policy beneficiary, the designation procedures are easier to follow so long as the policyholder submits a copy of the Partnership Certificate issued by Shibuya Ward.
Initiatives to employees
Full Provision of Information
Dai-ichi Life provides seminars to all employees to promote understanding of LGBTQ individuals.
Establishment of Consultation Desk
Dai-ichi Life has established a system consisting of a consultation desk to respond to individual cases of consultation concerning LGBTQ issues.
Formulation of LGBTQ Policy
In the policies (including the Code of Conduct) that employees are to follow, it explicitly states not to discriminate against others because of their sexual orientation or gender identity.
Extended Application of Leave System
In the Leave system for marriage, childbirth, etc., persons eligible for the system in principle now include the same-sex partners of employees in the same manner in which spouses are, based on objective materials, etc.
Extended Application of Use of Company Housing
In the standards for granting the use of company housing, same-sex partners in principle shall be considered family members, based on objective materials, etc.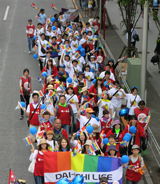 Efforts for Experienced Hires
Introduction of the "buddy" system
With the addition of securing skilled workers and specialists in our transformation of our future business model and development, we have strengthened our efforts to recruit mid-career talent in order to promote further diversity in knowledge, skills, and ways of thinking to break down the single-mindedness that was prevalent in the past. From Fiscal year 2022, we have introduced a "buddy system" for those mid-career hires entering the company. For the first 6 months after joining the company, they will be paired with an employee that they can meet face-to-face or by utilizing digital tools such as chat to ask any questions or express any concerns that they might have. Efforts like these will enhance our organizational strength and to minimize any anxiety felt from the crucial first few months after entering the company.
Share of experienced hires
| Fiscal 2019 | Fiscal 2020 | Fiscal 2021 |
| --- | --- | --- |
| 28% | 27% | 34% |
Top management agrees with domestic and international initiatives to promote women's advancement
| | | |
| --- | --- | --- |
| Declaration of action "Meeting of male leaders to accelerate the success of shining women" | | "Principles of conduct of the" Association of Male Leaders to Accelerate the Active Participation of Shining Women "supported by the Cabinet Office |
| 30% Club Japan | | "A global campaign aimed at increasing the proportion of women in key decision-making bodies of companies, including the board of directors, which began in the United Kingdom." |
| Challenge to 30% in 2030 | | Keidanren's campaign aimed at forming a movement of top management toward the same goal as 30% Club Japan |
| "Women's Empowerment Principles WEPs" | | Code of Conduct jointly established by the United Nations Global Compact and UN Women |
| "G20 EMPOWER" Advocate | - | Private sector alliance for the Empowerment and Progression of Women's Economic Representation |