Basic concept of D & I for human resources
As part of our new MMP, the Group aims to continue contributing to the well-being of all people so that they have peace of mind and are able to live rich and healthy lives. And it is our 70,000 group employees that drive the realization of that aim. For us to be in closer to our customers and provide them the very best products and services, and contribute to communities to realize sustainable society, we require a workplace environment in which group employees find satisfaction in their work and able to do their jobs with high energy and motivation. We believe that leveraging diversity and realizing employees' fullest potential will lead to our sustainable growth. Based on such a viewpoint, the Group focuses on the promotion of diversity and inclusion in its initiatives. Under the top management leadership, we promote the achievements of the women who make up a majority of our employees, and have brought our ratio of female employees in managerial positions* to 27.5% through efforts such as establishing an appropriate work environment, enhancing offered systems, and providing leadership development training programs to our female employees. On the other hand, the ratio of women in position of a department or section head at our organization is only about 10%. We aim to bring this percentage up to 30% by April 2024, and will promote realization of diversity among the decision-makers at our company with greater speed through implementing succession planning under which women would account for 30% of the candidates listed up by our executive officers for the department in charge. As we will make diversity our strength going forward, we are pursuing initiatives such as expanding the work domain of employees with disabilities predominantly at our special subsidiary Dai-ichi Life Challenged and proactively hiring experienced talent to diversify our homogeneous workforce. At present, approx. 30% of the people whom we hire are midcareer hires. We will continue going beyond narrowly defined gender-based diversity and aggressively promote diversity that include hiring non- Japanese individuals and midcareer hires to core positions.
Amid COVID-19 pandemic we have put the health of our employees, their family members and our customers first, and have established new work styles that take advantage of telecommuting. We will continue implementing new work styles that are not bound by time or place, and will enhance connections with customers and fellow employees within an environment that is conducive to communication and collaboration "anytime, anywhere, and with anyone."
Simultaneously, we will aim to improve employee engagement through further enhancing productivity and enhancing work life balance. Going forward, we will continue contributing to the well-being of our customers and society with diversity and inclusion as the driving force of our sustainable growth.
*

As of April 1, 2021. Total for Dai-ichi Life Holdings, Dai-ichi Life, Dai-ichi Frontier and Neo First Life.
Active Participation of Diverse Employees
Promoting the Active Participation of Female Employees
As a means of developing the next generation female leaders, we provide various training to match specific goals and reinforced our development efforts through implementation and support at each department. In order to maximize and grow individual abilities, it is necessary to recognize biases in the ways one sees and perceives certain things that he or she is usually not aware of or consciously control. In promoting the female employees, overcoming unconscious bias such as gender-fixed roles stereotypes, is critical. Given that, we are conducting unconscious bias trainings for all employees and the provide an "evaluation checklist" that encourages awareness of unconscious bias when performing performance evaluations to ensure fair and impartial evaluations.
Furthermore, in December 2019, we became a member of "30% Club Japan," which has set a goal to make the ratio of female executive officers 30% by 2030, and are reinforcing our pipeline of female leaders for realizing diversity among the decision-makers at our company. Being the first Japanese life insurance company to join the "30% Club Japan Investor Group,"*1Dai-ichi Life is promoting gender diversity as an institutional investor as well.
*1

An institutional investor group that seeks to enhance the medium- to long-term corporate value of investees through promoting gender diversity.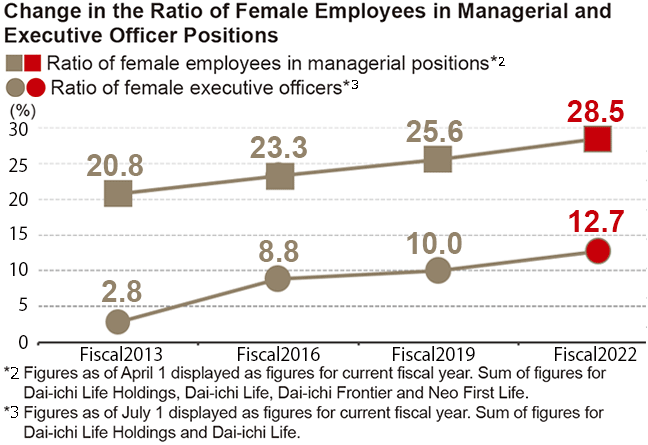 Top management agrees with domestic and international initiatives to promote women's advancement
| | | |
| --- | --- | --- |
| Declaration of action "Meeting of male leaders to accelerate the success of shining women" | | "Principles of conduct of the" Association of Male Leaders to Accelerate the Active Participation of Shining Women "supported by the Cabinet Office |
| 30% Club Japan | | "A global campaign aimed at increasing the proportion of women in key decision-making bodies of companies, including the board of directors, which began in the United Kingdom." |
| Challenge to 30% in 2030 | | Keidanren's campaign aimed at forming a movement of top management toward the same goal as 30% Club Japan |
| "Women's Empowerment Principles WEPs" | | Code of Conduct jointly established by the United Nations Global Compact and UN Women |
| "G20 EMPOWER" Advocate | - | Private sector alliance for the Empowerment and Progression of Women's Economic Representation |
Global Diversity
To enhance our international competitiveness, we develop our people into those who can potentially contribute to our global business through initiatives such as recruiting non-Japanese international students, dispatching Japanese employees overseas as trainees or international students, and offering practical overseas business training. Simultaneously, we promote synergy and best practices sharing in the Group through exchanges among executive-class members of Japanese and overseas group companies. Additionally, at our overseas group companies, we will proactively recruit and promote diverse employees to key business positions.
Promoting Active Participation of Employees with Disabilities
While promoting the hiring of employees with disabilities and the expansion of their work opportunities at our various group companies including Dai-ichi Life's special subsidiary company Dai-ichi Life Challenged, we aim to create a workplace to motivate and engage them in their career.
LGBT*5 Initiatives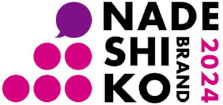 Top Gold Rating on PRIDE Index
Evaluation of LGBT Initiatives
(2020)
As we endeavor to be an LGBT- those subject to "career rotation") friendly company, we continue to hold seminars to widen the circle of LGBT "allies" who understand and support LGBT individuals as well as training sessions in which human rights awareness is a key theme. Simultaneously, we are promoting the establishment of a framework through means such as setting up a consultation desk as we work to encourage employees' understanding.
*5

LGBT stands for "Lesbian, Gay, Bisexual and Transgender."
Please see the link for the initiative of Dai-ichi Life, the core company of the group.
Dai-ichi Life (LGBT-Friendly)

Promoting Active Participation of Senior Employees
Having entered the 100-year Life Society, we promote diversification of work styles, including senior employees. To increase opportunities for senior employees and to take full advantage of the experiences and skills developed over many years, we have changed the retirement age from 60 to 65 years old from fiscal 2021.
In the milestone age of 40-50s, we hold a career design training. We enhance career support system so that they can revisit their strengths and issues based on their future aspirations and professional goals, leading to the improvement of expertise and productivity.
Realization of Diverse Work Styles
Promotion of Work Style Reforms
Aiming to realize workplace environments where our employees can freely choose where and when they work on their own and practice a more flexible workstyle, we are promoting initiatives that translate into the creation of value-added on an organizational and individual level as well as to the well-being of our employees. These initiatives include the application of telecommuting and the flextime system.
In fiscal 2020, we have been enhancing our systems through introduction of "Quality of Life Improvement Leave," a system which allows employees to take time off for a broad range of purposes such as volunteer work, infertility treatment and self-development, and "hourly-based holidays," where employees can take flexible hourly-based holidays.
TOPIC~Promotion of Diverse Work Styles~
Flexible choice in time and location fosters greater innovation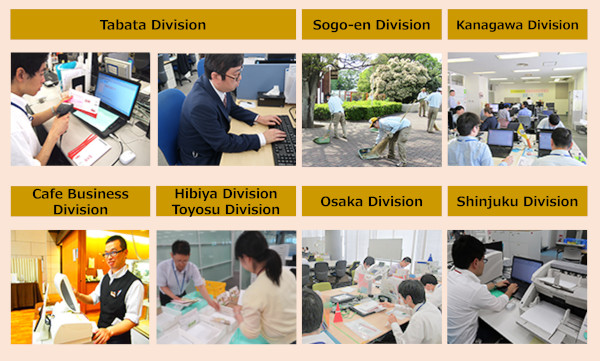 Naho Yoshimura
Assistant Manager
Innovation Strategy Dept.
The Dai-ichi Life Insurance Co., Ltd.
"Dai-ichi Life Innovation Lab" members who lead innovation in the Group, pursue flexible work styles to promote collaborations with start-up enterprises and other entities inside and outside Japan.
<Location>
As the use of Teams and other Web meeting tools is promoted across the entire department, we can work from multiple locations, including home and co-working space in addition to office space. Generally, members individually choose the location where their productivity and motivation are enhanced. At Proof of Concept (PoC), which substantiates new ideas in a short time frame, members may bring together involved parties at a co-working space to engage in discussion as they gather around a whiteboard. Conversely, they may wrap-up things without meeting in person. Based on the particularities of the matter at hand and their own situation, members select the optimal place to generate ideas and implement projects.
<Time>
In creating innovation, the input of new information and networking are essential. That is why we proactively take part in seminars and pitch events, including those held overseas where there is a time difference. In cases when such events are held online early in the morning or late at night, we make full use of remote work, which enables us to take care of household duties when we have a chance.
Work-Life Management
We also promote work-life balance so that our employees can approach their work with energy. For example, we offer seminars regarding health issues particular to women, and support their career with childcare/nursing care. We also support fathers to take part in childcare by providing educational materials on taking childcare leave and supporting tools for managers to promote the participation of our male employees in childcare. Through company-wide encouragement, the rate of childcare leave taken by our male employees in fiscal 2020 was 91.3%, a 11.5% increase over the previous fiscal year.
*7

Sum of figures for Dai-ichi Life Holdings and Dai-ichi Life (including those subject to "career rotation")
TOPIC~Story of Experience by Male Employee in Taking Childcare Leave~
While sharing the burden of childcare with my family, I was able to see the growth of my child right by their side.
Hideki Okada
Line Manager
Human Resources Dept.
The Dai-ichi Life
Insurance Co., Ltd.
In 2019, upon the birth of my first child, I took childcare leave of about four months. The time that directly followed the birth of my child happened to fall upon a peak busy period at work, forcing me to leave unfamiliar tasks of childcare completely to my wife in addition to household duties. Therefore, I consulted with my superior about taking childcare leave upon a break in my workload. Because the duration of that leave would be long, I wrapped up any duties that I could on my own, and handed over any other duties to my colleagues. I am grateful to my superior and my colleagues for their support, without which I would not have been able to take childcare leave. After talking things over with my wife, we decided to leave cooking with my wife and split other household chores and childcare duties equally. Over my four months of childcare leave, I am confident that I became able to perform the full range of childcare duties, from bathing and clothing my child to putting it to bed. I was able to get a real sense of just how challenging a childcare is and share that with my wife. Not only that, but I was also able to see my child growing right by child's side, a wonderful experience that I would not trade for anything. Plus, I had enough time to think about my family and myself, broadening my horizons.
[Initiatives of Dai-ichi Life]
We are enhancing work-life balance support so that employees feel secure continuing to work as they experience various life events. In addition, from fiscal 2022, to strongly promote male employees' participation in childcare, we have been promoting initiatives with the goal of achieving 100% acquisition rate of paternity leave for a total of one month or more.
● Systems for Female Employees related to Pregnancy, Childbirth, Childcare and Reinstatement
● Systems for Male Employees related to Childcare
Seminar for fathers who will soon have children
Three days of paid leave are granted when the spouse gives birth
Prepare a plan to take childcare leave after having dialogue with supervisor
Up to 20 days of paid leave are granted to those who take paternity leave (including women in the case of adopted children)*
● Systems related to Nursing Care
Nursing care leave (Up to 730 days in total with no limit on the number of splits)
Nursing care support leave (Up to 12 days per year, can be acquired in half-day units)
Shorter work hours for nursing care (Up to 1095 days in total with no limit on the number of splits)
Flextime work for nursing care
Exemption from overtime work for nursing care
For further details, please refer to the following link.
Dai-ichi Life's Work-Life Balance