Environmentally Conscious Real Estate Investing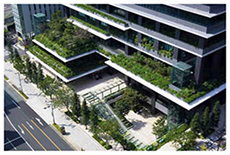 As the owner of 277 investment properties in Japan (as of March 2021), Dai-ichi Life is taking steps to save energy in terms of both its choice of building facilities and how they are used. In addition to installing efficient equipment to improve environmental performance in new buildings or when renovating or refurbishing, facilities-related initiatives also include striving to create "greener" buildings. In terms of routine building operation and management, energy savings are being achieved through ongoing improvements made in collaboration with management companies such as Dai-ichi Building.
Development of wooden office building
Wooden construction using wood, which is a material that is friendly to the global environment and contributes to the revitalization of the local economy, forestry and wood industry, is attracting attention both in Japan and overseas. We are the first in the life insurance industry to develop a mid-rise wooden office. *The timber used is planned to be domestic timber mainly produced in Tochigi and Fukushima prefectures near Utsunomiya City, where the office is planned to be developed. This development will also contribute to regional revitalization and regional revitalization through the use of locally produced timber. In addition, the building after completion will be planned with consideration for infection control, such as allowing natural ventilation in the east-west and north-south directions, as well as creating a space surrounded by trees and actively using balconies and outdoor stairs. By making a facility plan to do so, we will improve the QOL of facility users, improve their health, and activate communication. In addition, we are considering a plan for a rental office building with a wooden hybrid structure in Kyobashi, Chuo-ku, Tokyo, and will continue to contribute to the realization of a sustainable society.
*

As of November 24, 2020, based on our self-investigation.
SETAGAYA Qs-GARDEN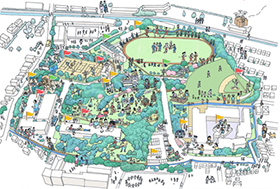 Various facilities are set up on the site of Daiichi Seimei Ground (9ha, about 2 Tokyo Domes) surrounded by lush greenery (sports facilities, condominiums for families, clinic malls, housing for students, services included) Housing for the elderly, local community facilities, etc. Together with various partners, we aim to create a town where multi-generational residents can continue to live in good health while interacting richly. By devising the layout of roads and buildings on the premises, we have secured open spaces and parks that make use of the existing greenery. We will open it up to the local people, enliven the local community by holding events such as health and sports, and lead to regional revitalization. We want the people, the region, and the earth to be happy.
"SETAGAYA Qs-GARDEN" aims to create a town that is unique to Dai-ichi Life, which we think of.
Promotion of greening of buildings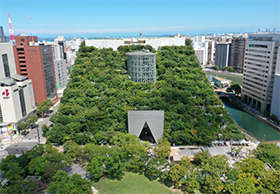 Dai-ichi Life has been greening buildings in its real estate for more than 20 years.
Acros Fukuoka (Fukuoka City, Fukuoka Prefecture), completed in 1995, aims to create a rich environmental stock in the city. The building was likened to a mountain, and 37,000 trees of about 80 types were planted in a stepped roof garden called "Step Garden". Due to the subsequent supplementary planting and the native growth of species carried by wild birds, the number of tree species has increased to about 200, creating a new ecosystem and becoming like a natural mountain. It is known as "Mount Across" by the locals. In addition, we maintain and manage the formation of a recycling-oriented society, such as vegetation management by natural water circulation (rainwater) and generation of waste discharged from restaurants in the building as organic fertilizer.