Social contribution activities of the Dai-ichi Life Group that contribute to environmental protection and biodiversity conservation
Special sponsorship of "City Green 3 Awards"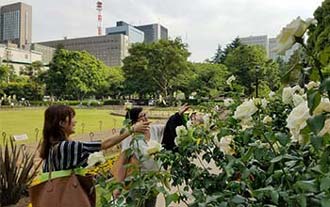 In 1990, Dai-ichi Life established the Green Environmental Plans Award to support greening initiatives with the goal of contributing to urban greening. Dai-ichi Life now supports three awards, by adding the Green Cities Award and the Competition for Specialized Greening Technology for Rooftops and Wall Facings. Approximately 360 green spaces have been subsidized up until to 2021. As a result of this initiative, Dai-ichi Life received the Minister of Land, Infrastructure, Transport and Tourism's Award for Service in Urban Greening in 2000 and 2014.
Tree planting activities in "Dai-ichi Life Forest"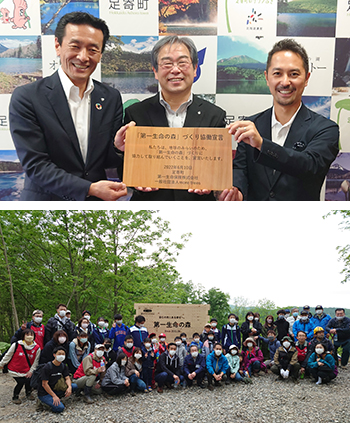 From the spring of 2022, we plan to create the "Dai-ichi Life Forest" in Ashoro Town, Hokkaido, and start tree planting activities with the aim of addressing climate change issues and ensuring biodiversity. This activity will be carried out in collaboration with the general incorporated association "more trees". "more trees" is a forest conservation organization represented by musician Ryuichi Sakamoto, aiming for a society where forests and people can live together forever. "more trees" is making various efforts with the keyword "connecting cities and forests". We will continue to actively promote efforts to protect the global environment.
Drive action to cope with climate change "Plastic-less Challenge"
In March 2022, we held "ECOnnect Plastic-less Challenge", a group-wide environmental action aimed at reducing plastic waste. By posting and sharing photos from employees with their reusable bottles and bags (instead of plastic ones), on our internal website, we raised environmental awareness and eco-friendly habits among employees. Ultimately, it ended with a great success, attracting participants from 18 companies from all over the world.
Reduction of plastic waste at dl.café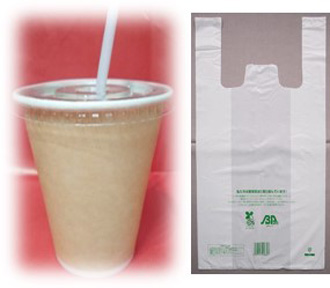 In June 2019, we introduced paper straws at "dl.café", a coffee shop at Dai-ichi Life headquarters operated by Dai-ichi Life Challenged in order to reduce plastic waste, which has become a global problem in recent years. We regard the protection of the global environment and the construction of a sound environment friendly material-recycle society as a corporate social responsibility.
Going forward, the entire group will work together to protect and conserve the environment and reduce the burden on the environment.
Promotion of investment and financing to ensure the sustainability of natural capital
At Dai-ichi Life, the core company of the group, we are working to create a positive impact on society by investing in and financing assets that contribute to solving social issues, such as securing water resources.
| Investment theme | Major ESG-themed investment cases |
| --- | --- |
| Clean Water and Sanitation | |
| Responsible Consumption and Production | |
| | |
| | |