Dai-ichi Life Holdings Integrated Reports are published to help our stakeholders better understand the Dai-ichi Life Group's passion and initiatives reflecting our mission; "By your side, for life." We hope this report will foster a deeper understanding of the management challenges, strategies and initiatives for future growth for the Dai-ichi Life Group, as well as its efforts.
This report constitutes disclosure materials prepared in accordance with Articles 271.25 and 272.40 of the Insurance Business Act and Articles 210.10.2 and 211.82 of the Enforcement Regulations of Insurance Business Act (Explanatory Documents on Business and Property Status).
The Latest Integrated Report
Integrated Report 2023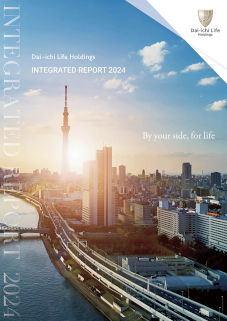 *

Download may take time due to large file size.
Download by Each Section
■Back number
Please see the website of each group company for their Annual Reports.