Results of Investment
As a Responsible Institutional Investor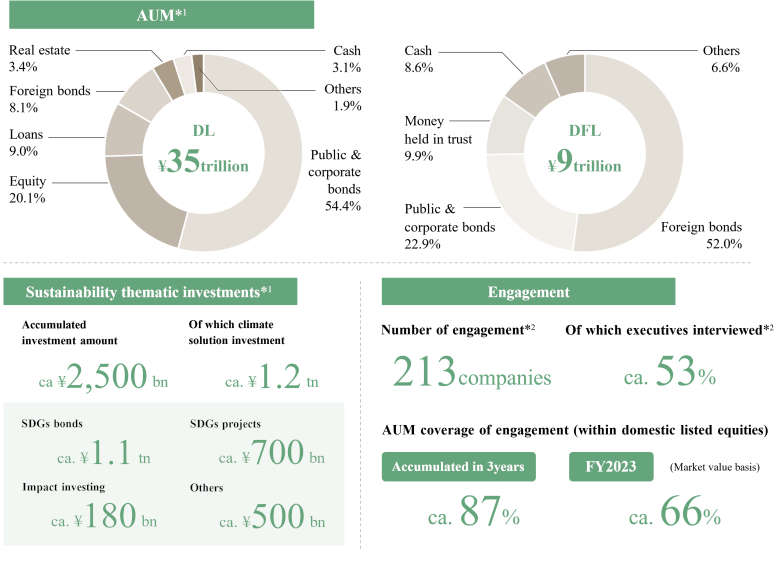 ESG-themed investment
ESG-themed investment has accumulated the assets and reached to ¥940 billion. (As of the end of August 2021)
Mainly, we actively invested in Climate Change Solutions.

Climate Change Solution Investments (As of the end of August 2021)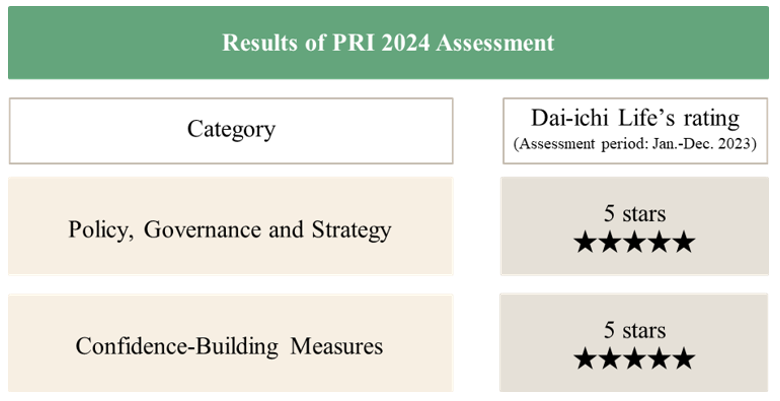 Examples of Investments in Climate Change Solutions(As of August 31, 2021 ,Investment cases after October 2020)
Investment to Support the COVID-19 Response(As of August 31, 2021, Includes main projects in or after October 2020)
Other ESG-themed Investments(As of August 31, 2021, Includes main projects in or after October 2020)
Purpose of Impact Investment
We promote impact investments for the purpose of both generating a return on investments and creating a social impact in unlisted and listed equities as well as external trust investments.
We select projects by considering whether they have a clear vision to solve social issues, whether their businesses exhibit certain barriers to entry such as innovativeness and originality, and their potential social impact, which we continuously monitor after investment.
Even in our engagement activities, we make proposals to companies for impact investing, such as more comprehensive disclosure.
Impact Investment (As of August 31, 2021, Includes main projects in or after September 2020)
Cumulative investment: Approx. JPY 30 billion (Listed equities: JPY 16 billion; Unlisted equities: JPY 8 billion; Funds: JPY 6 billion)
Efforts for Solving Social Issues through Industry-Academia Partnership
We actively partner with universities, which are educational institutions that shape the future, with the aim of creating innovations through industry-academia partnerships and solving social issues through regional development and revitalization.
We carry out joint research that contributes to improving quality of life and extend healthy lifespans and promote its implementation in society. We are also engaged in initiatives aimed at solving social issues, including through revitalization of regional economies, by concluding comprehensive partnership agreements that set forth training innovative talents and creating businesses at university campuses and in local regions.
ESG Initiatives for Real Estate Investment
Plan for rental office building with a wood hybrid structure
We have begun considering a new architectural plan for a rental office building with a wood hybrid structure in Kyobashi, Chuo-ku, Tokyo.
The project aims to reduce CO2 emission during construction at least 20% compared to steel structures through cyclical use of resources by using domestic timber and the adoption of a wood hybrid structure.
ESG factors are taken into the evaluation and calculation of investment return, which is one of the investment criteria.
Regional economic revitalization by promoting workcation in Obihiro City
We aim to create and expand the population in cooperation with Obihiro City through workcation and other promotions
This project strives to revitalize the region through workcations and other projects by launching a hotel business through renovations of the Dai-ichi Life office in Obihiro City and setting up co-working spaces.
2020 Result of PRI assessments
In the 2020 PRI assessment, we received the highest "A+" score in four modules and above the global median score in all modules for the third consecutive year.
*

As the result of PRI assessment of 2021 will be disclosed in 2022, the latest result is 2020 assessment.

*

Fixed income score is the average of four modules (SSA, corporate financial, corporate non-financial, and securitized)

*

Number of PRI signatory institutions as of the end of August 2020: 3,311
Click here for information on climate change initiatives as an institutional investor
(Climate Change Initiatives: Response to TCFD)