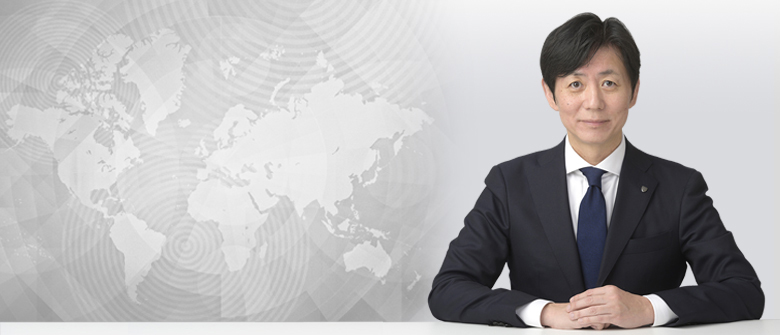 April 2, 2018
Seiji Inagaki
President and Representative Director
Dai-ichi Life Holdings, Inc.
To our valued stakeholders


A secure future for every community we serve.
Using the best of our local and global capabilities.

The Dai-ichi Life Group has always pursued what is best for its customers and for society over its long history. This approach is woven in our Group Mission "By your side, for life" and is also embraced by everyone now that our businesses have expanded worldwide. This has been made possible by our predecessors' unwavering commitment to innovation. Dai-ichi Life was founded as Japan's first mutual life insurance company. Since then, we have innovated to be the choice of our customers and contribute to society by adapting to a rapidly changing environment. We were the forerunner among our peers in venturing into the overseas business and implementing a multi-brand strategy in Japan. Governance of the Group was enhanced through demutualization and the shift to a holding company structure. Currently, we operate nine life insurance companies in seven countries and asset management business in three locations: the United States, Europe and Japan. With these efforts, we have become a diverse global insurance group with a strong business foundation.
A secure future for every community we serve. Using the best of our local and global capabilities. — This passion motivates us to continue to innovate.
Leveraging Dai-ichi Life Group's strengths in times of rapid change
The world is changing rapidly and becoming more complex with advancements in science and technology. As symbolized by the term C2B (consumer-to-business), we are in an era where diverse customer values dynamically drive corporate activities. Companies that fail to address the changing needs of these customers cannot grow further. Furthermore, in an intensely competitive market with players emerging beyond industries and national borders, existing business models will lose competitiveness.
Going forward, we should take advantage of such changes in business environment and consider them not as a threat but as an opportunity for further growth. I believe that in addition to our existing strengths including the strong brand value and business foundation we have built so far, our multiple global business domains as well as our diverse and experienced talents will be the driving force in the years to come. We will aim to further improve our flexible and strong group management foundation and transform challenges into energy. In order to achieve this, we will leverage our successful performance demonstrated in various markets globally, our distinguished leadership, talented employees and seek to create further group-wide synergies.
Our New Medium-term Management Plan "CONNECT 2020"
With "CONNECT 2020" we aim to further enhance our profitability based on our sound business foundation as a leading Japanese insurance company. During "CONNECT 2020" we also aim to expand the Group's three growth engines — domestic life insurance, international life insurance and asset management — by strengthening and deepening connections (relationships, links and synergies) both within and outside of the Group. During "CONNECT 2020" we will continue creating value through innovation to gain a competitive advantage.
In the domestic life insurance business, in light of the maturing and diversifying market, we will provide more value than what we have been delivering through a conventional life insurance business structure. Additionally, with our multi-brand and multi-channel strategy we will enhance cross-selling of products and services by our three domestic brands (Dai-ichi Life, Dai-ichi Frontier Life, Neo First Life) which should improve each customer's quality of life via the most suitable channel. To contribute to health promotion in particular, we will substantially increase the value we provide, by shifting from "protection" to "prevention" type products and services. We will leverage our ties with communities, society and also external partners to promote customers' quality of life and to address social issues in many ways. As a result, we will strive to expand our presence in the domestic market by reaching out to a larger number of diverse customers through life insurance business.
In the overseas life insurance business, we will continue to diversify our profit structure and strengthen our business foundation for the future. We will aim for profit growth in the United States and Australia and robust business growth in emerging markets. To achieve this, we will make investments focusing on growth, and develop new sales channels to support the organic growth of our group companies. We will also promote stronger ties and synergies between group companies in various areas. Furthermore, we will continue to contribute to the improvement of quality of life through expanding insurance penetration. With that aim in mind, we are preparing to commence business in Cambodia. Moreover, leveraging growing business capabilities of Dai-ichi Life Vietnam, we will continue our business expansion in the Mekong region ahead of our peers.
In the asset management business, which is expected to grow globally in light of increasing needs for asset formation, we have established a global trilateral structure led by Asset Management One and Janus Henderson Group and now we can cover Japan, the United States, and Europe. Overall, in the asset management business we will aim to achieve robust earnings growth supported by our asset management companies complementing each other's business in each market and also promote global synergies with group life insurance companies.
In terms of "InsTech", our initiatives for promoting innovation, we are able to see results of utilizing cutting-edge technology, leading to the improvement of customer experience and operations productivity. Amid the tightening labor market, in order to secure talents and to substantially shift operations to growing businesses, we will focus on improving productivity through digitalization and the use of robotics.
Additionally, we will further enhance our big data analysis and proceed with even broader insurance underwriting coverage. We will also accelerate the creation of new businesses based on entirely new ideas free from conventional thinking through the utilization of the "Dai-ichi Life Innovation Lab" and establishment of a broad ecosystem with external business partners including companies in different business sectors and academic institutions.
Lastly
We will execute our medium- to long-term strategies while further reinforcing our group management structure so that we will be able to tackle the changes of tomorrow and forge the future through innovation. As we move forward, I sincerely count on your support and contribution.